Visiting the boys' school this year was fun.  They are enjoying their year so much.  They wanted us to meet their music and PE teachers. It was nice to see where they spend their days and to hear from their teachers how they're both doing a great job.
First up was Patrick's classroom.  I informed them that I would be inspecting their desks and lockers to make sure they were staying organized.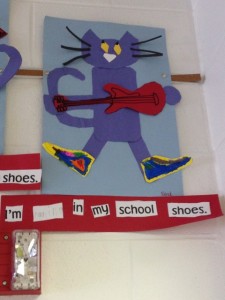 On to Mac's classroom.  We got to take a tour of his room then we took a family picture in the teacher's photo booth.  I hope we get to see a copy of that one! My kind of fun.