Okay, I've been horrible with the baseball video and pictures, but wanted to share what bit I do have.  As always, I'm having a blast watching my boys play my favorite sport.
Here is a clip of Mac hitting.  He actually got a double out of this hit, but someone called foul when he hit it so he stopped momentarily. Luckily it was hit hard and went far so he made it a double!
He's been playing third mostly this season, and doing a great job, however, I don't have any pics of him there.  We're usually too busy cheering him as he makes his plays.  But I did get a pic of him in his catcher gear again.  They each get a turn every few games at being catcher and he enjoyed his turn.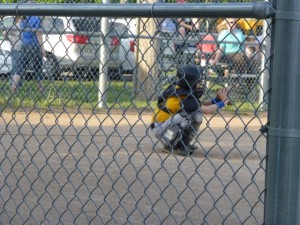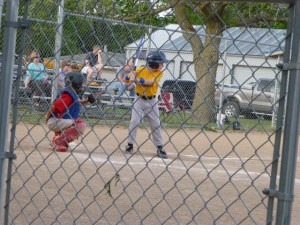 Then there's Patrick.  I can't figure this boy out.  He started the season so strong, however as the games started he seems more interested in playing in the dirt than in the game.  And last year he was a hitting machine without the tee…this year…eh…it depends.  His stance and swing have gone loosey-goosey. Not sure what's up with that?!  I keep reminding myself it's only t-ball, right?

Here are a few clips from tonight's game.