Patrick had our first friend party…kind of. He was allowed to invite four friends from his class to join us for our family celebration. He chose to invite a group of friends he plays and works with a lot at school and all but 1 made it!
He started the day opening his present from Uncle Tom and Aunt Tara, but he was only wearing his underwear, so I didn't get pics of that.

 Then he got his present from Daddy.
It was a fun Minecraft theme this year.  Since there are absolutely no Minecraft party items available to purchase, everything had to be made by us!  So I ordered a cool cake (modeled after Patrick's Minecraft character) from a friend (Lisa – the one that made Eleanor's vegan shower cake!) and Mac helped me make Creeper goody bags.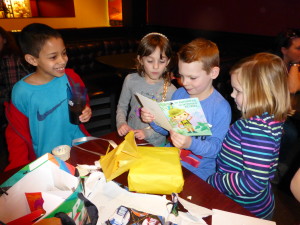 Unfortunately, Daddy was sick and couldn't join us, so we videoed the singing for him.