Mornings.  It's usually me working on five things at once, getting us all ready to get outside for the bus on time. Usually I'm calling the boys numerous times with prompts to stay focused and get moving while making breakfast, lunches, checking homework folders and backpacks, making sure all medication is given – especially at this time of year with that corn coming down! Most mornings, I do all this without thinking about how busy I am. My mind is usually on my work day already and I know what I need to get done and just do it.  But occasionally, I get overwhelmed and upset, especially when I can't get it all done in time.  It really wears me out sometimes with all of the things I have going on in my head in the mornings. (It reminds me of this meme: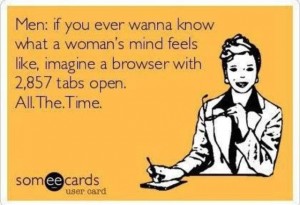 But I digress…the point of this post is coming up!)
This morning while I was making breakfast, packing lunches, checking homework folders etc…, Mac was quietly watching me while eating his pancakes.  After watching me get the lunches finished, he looked at me and said, "When I'm grown, you won't have to do all this, Mom."
It was like a ton of bricks hit me in the chest. Literally.  I know I'm supposed to cherish these times.  I already look at my boys and think, Where did my babies go? And I've always said, I won't be one of those mothers that misses the baby stage. I want my kids older….but I'm taking that back.  I do miss them as babies. I do miss their preschool days of sweetness and just loving on them in the evenings.  No chores. No homework. Bathtime was play time.  I miss it all.  And I know that one day when they're teenagers and barely home or needing me, I'll look back on these days and miss them.  And to think that one day, I won't have them at all hits me hard.
So we had a nice little chat about empty nest years and it was a great reminder to me to cherish these days, no matter how chaotic they are, because one day I won't have to do all this.